Street Art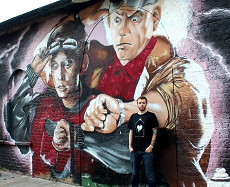 The ability to express oneself through public displays of painted pictures has enabled many talented artist the opportunity to share their unique talent. Street art is also known as graffiti, this form of art began in the 70s in New York City.

Street Art is a Unique Form of Self Expression

Subways and buildings were the canvas and cans of spray paint were the brushes for many young visionaries who did not have the means to attend art school or whose parents could not afford to buy them art supplies. Urban wall art allowed many teenagers to express their feelings about life in a creative way. It takes talent and creative thinking to tell a story with pictures.

Initially, this genre of art was not appreciated and misunderstood. Graffiti artist were accused of vandalizing public places, and their art was usually painted over and destroyed. This has since changed, street art can be found on walls, streets, buses and trains and in many public places around the world. Finally, street artist are receiving the respect and admiration they deserve.

Museums Now Display Graffiti and Street Art

The late Martin Wong collected graffiti art and before he died he donated his unique collection to the City of New York Museum, they had the first exhibition in February 2014; Wong's collection features many great graffiti street artist of the 70s and 80s.

Today is seems that society has gained insight and a better understanding of this form of artistic expression. The thoughts and intents of a street artist is not to destroy public property, it is the desire to share beautiful works of art freely with the public.