Graffiti Art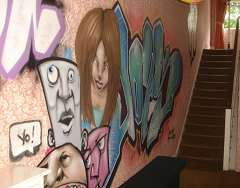 Graffiti art has for a long time been a very controversial, yet innovative, type of art. This street art has been hailed as a very rebellious type of art, due to it's illegal nature. However, there are many different ways in which graffiti art has helped pushed the world of art and pop culture forward with its innovate ways.

There are many ways in which individuals can look at graffiti art. Some may just think that it is a rampant form of vandalism, while other will look at it as a push forward in a new medium of art. There are ways in which society can see that graffiti art isn't just on the side of buildings and trains anymore. There are many popular artists that have taken graffiti art and placed it within other mediums. This gives the artists an ability to take their once urban graffiti art and make it commercially viable.

The graffiti art style is more than just spray paint on a wall. Graffiti art has a whole lifestyle and message of its own. There is a certain amount of self expression that comes with most graffiti art. There has even been graffiti art that has helped bring about social and political change.
Probably the biggest example of this is the fall of the Berlin Wall. There was such beautiful art on that wall that promoted freedom. It is said that this art truly gave leader and citizens hope that there would be reform soon to come. There are many historians that have given large amounts of praise to the work of artists on this wall.