Graffiti Artist Creative Art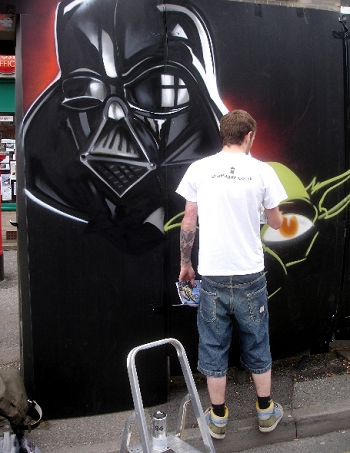 Graffiti delivers more information and lessons more than a mere text or message. Graffiti artists certainly are dedicated to doing all their jobs through creative art; they always deliver the intended message from the client or pass information. They use their artistic skills and combine them with creativity to attract emotions or attention. With extensive expertise graffiti artists have overtime played great roles in the society such as:

• Teaching- through team building and workshops, graffiti artists have overtime conducted workshops to show the extensiveness of their work. In addition, their arts help other artists realize their graffiti potential in them and work on them. Any graffiti can have a teaching or a message important that if well understood could be informative or motivating. Graffiti artists also teach interested participants to come up with attractive graffiti.
• Commercial purpose; in products advertisement the graffiti drawn can be used to attract attention to a certain product. A simple graffiti can also add life to your living room wall.
• It's entertaining to see live graffiti; graffiti artists have over time traveled in different regions of the world to showcase their art. Many are the times that people highly appreciate their professional entertainment and skills.

Interesting Facts about Graffiti Artists
I. Apparently females also have a great passion for the graffiti artistic work, and you will see most of them during live graffiti artwork.
II. Every day for a graffiti artist is always a different day; they have multitudes of people interested in their artwork that once will make attend a global workshop while he was playing live art yesterday with children
III. A graffiti artist is always open to new ideas and new suggestions by people, and they always make who they are. Apparently many of the graffiti artists highly appreciate response and support from the public.
IV. Graffiti artistry has been in existence since centuries ago