How to become a Graffiti Artist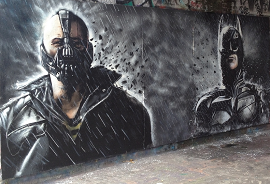 If you have always been interested in graffiti and wondered about becoming a graffiti artist, you may not be sure how to get started. After all, aren't most graffiti artists spray painting illegal works of art on public or private buildings or other property. Don't they sometimes get picked up by the law?

While, of course, this is the stereotypical image of a graffiti artist, in reality, there are many graffiti artists who do not do this at all. Instead, they create graffiti on property that has been sanctioned by an art gallery, a company or a private individual. Thus making them just as much of a legitimate and legal artist as just about any other.

So, how does one become a graffiti artist?

Spend time looking at other graffiti artists' work -- Before you even begin to think about painting graffiti, you may want to spend time looking at the work of well-known graffiti artists. This will give you an idea of the type of art work out there, as well as give you some ideas for creating your own.

Buy your supplies -- If you want to be a graffiti artist then, of course, you must have the necessary supplies. These will generally be cans of spray paint, although some artists do also work with brushes and paint. Just make sure you have the type of paints you want before you get started.

Find out about public spaces where you can legally paint -- Many towns and cities have public spaces or galleries where graffiti artists can produce their work. Find out if your town has anything like this, as it would give you a legal and legitimate place to begin.