What Is Graffiti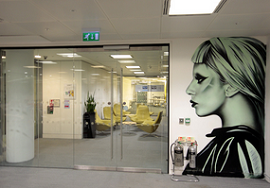 Graffiti has been around sense the Roman Empire. Graffiti is done on walls, or other surfaces that can be drawn, or written on. Graffiti can also be done as scribbles, and as scratches. Spraying profanity on walls, or other places is a common form of graffiti. Graffiti is mostly done with markers, and also with spay paint. Their is a variety of different kinds, and styles of graffiti. Graffiti is used to show off peoples art in public, and is also used to share political messages. Graffiti is also used to share social messages in public, as well. Some people find graffiti to be vandalism because where it was put wasn't approved by the owner of the building, or surface it was done on. On the other hand some authorities find graffiti to be a type of artwork.

Is Graffiti A Good Thing

Makes you wonder how something that has been around sense the Roman Empire can be a bad thing. Graffiti is a popular thing, and is very common. Pillows, shoes, headphones, bags, purses, and anything pretty much imaginable are all being made with graffiti on them. People even incorporate graffiti into their homes. Their are furniture, lamps, tables, shelves, and all sorts of other household items that are being made with graffiti, on them. Graffiti is also done on canvases, and hung in galleries. Sure seems like graffiti can be a good thing, and that their is a huge market for graffiti products. Graffiti is hung up, and displayed as artwork, it must therefore be a form of art. Graffiti is used for many different things, other then to vandalize people's properties.
For ore information please visit us at grafffiti.